Collection:

Gunners and Glory Quickstrike
The Mid to late 90's was the Golden Era of kit design from the likes of Adidas and Nike. It was an evolving time which featured new fabrics, bold colors, vibrant patterns, and unique color blocking. Those as well as others details inspired this quickstrike release. 
After over a year in development, we were able to source the perfect fabric reminiscent of Champions Reverse Weave heavyweight sweatshirts. These hoods feature many of those same handcrafted details. From double ribbed side gussets to the fabric being cut in a cross grain direction to prevent excessive shrinking. Each piece has a soft yet durable hand feel to the outside, with a cozy brushed fleece on the inside. 
The exterior graphics were inspired by the away kit colors from the 94-96 seasons. The front and back word-marks are a blend of contemporary and gothic typefaces. Each sleeve hit features lightning bolt motifs with tonal Gunner lettering incased. The interior of each garment showcases our trademark discovery details. Featuring illustrations from some of the most memorable moments in the clubs 135 year history.
Our inspired pieces pay homage to the past, exist in the present, and age well into the future. 
Gunners and Glory Quickstrike 
Gunners & Glory Hoodie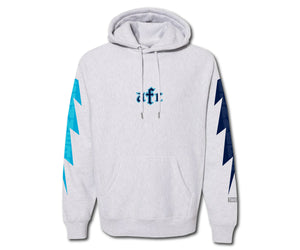 Gunners & Glory Hoodie (Dark Mode)